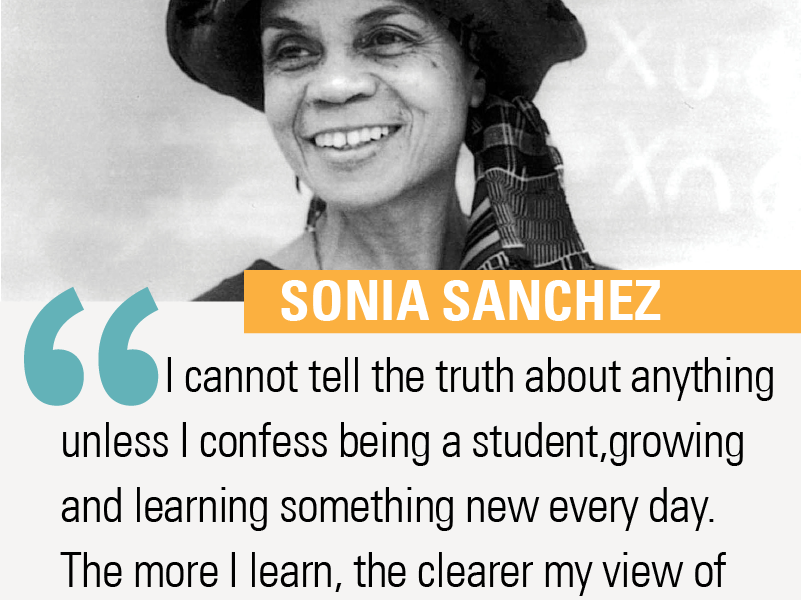 Virtual Poetry Reading: Sonia Sanchez
Date and time
Sun, May 23, 2021, 2:00 PM EDT
Join us for a very special poetry reading with the poet, activist, and scholar, Sonia Sanchez.
About this event
Virtual Poetry Reading: Sonia Sanchez
Sonia Sanchez, poet, activist, scholar—was the Laura Carnell Professor of English and Women's Studies at Temple University. She is the recipient of both the Robert Frost Medal for distinguished lifetime service to American poetry and the Langston Hughes Poetry Award. One of the most important writers of the Black Arts Movement, Sanchez is the author of sixteen books.
A representative collection of the life work of the much-honored poet and a founder of the Black Arts movement, spanning the 4 decades of her literary career. Gathering highlights from all of Sonia Sanchez's poetry, this compilation is sure to inspire love and community engagement among her legions of fans. Beginning with her earliest work, including poems from her first volume, Homecoming (1969), through to 2019, the poet has collected her favorite work in all forms of verse, from Haiku to excerpts from book-length narratives. Her lifelong dedication to the causes of Black liberation, social equality, and women's rights is evident throughout, as is her special attention to youth in poems addressed to children and young adults.
As Maya Angelou so aptly put it: "Sonia Sanchez is a lion in literature's forest. When she writes she roars, and when she sleeps other creatures walk gingerly."
"You have spoken for us . . . Written for us . . . Sung to us . . . How much in your debt we are." —Toni Morrison
"This world is a better place because of Sonia Sanchez: more livable, more laughable, more manageable. I wish millions of people knew that some of the joy in their lives comes from the fact that Sonia Sanchez is writing poetry."
"Only a poet with an innocent heart can exorcise so much pain with so much beauty." —Isabel Allende
"The poetry of Sonia Sanchez is full of power and yet always clean and uncluttered. It makes you wish you had thought those thoughts, felt those emotions, and, above all, expressed them so effortlessly and so well." —Chinua Achebe
"Her songs of destruction and loss scrape the heart; her praise songs thunder and revitalize. We need these songs for our journey together into the next century." —Joy Harjo