#SpreadTheWord: Views from a Crisis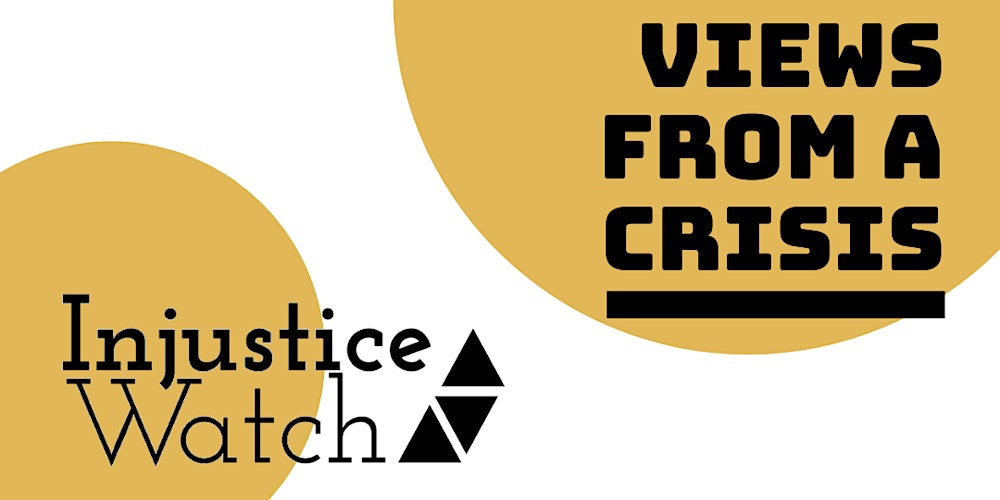 Mon, Jun 22, 2020, 6:30 PM EDT
"Spread The Word: Views from a Crisis" is a digital poetry event amplifying Injustice Watch's reporting and community.
About this Event
#SpreadTheWord is a curated arts event series that amplifies Injustice Watch's reporting, encourages readership through creative writing and performance, and reinforces our commitment to community.
Join us on Monday, June 822at 5:30 p.m. for #SpreadTheWord: Views from a Crisis, as five local artists perform original spoken word art inspired by our coverage of the COVID-19 pandemic and criminal justice. This event will take place via Facebook Live, and was made possible through the generous support of the Poetry Foundation.
Register to receive the event link and reminders.
Performing Artists:
Kwyn Townsend-Riley – As a Chicagoan, Kwyn channels her South Side experiences into her writing. Most of her poems are center many social justice issues including racism, sexism, rape culture, and gun violence. To Kwyn, poetry makes the truth sound beautiful and less painful. It serves reality a little warmer to those who are hopeless. Her poetry has been featured in the Huffington Post, BLAVITY, The TRIIBE, and The Chicago Reader. She has performed throughout the US for SoFar Sounds, The Silver Room Block Party, and placed at the Young Chicago Author's Big Kid Slam. This Lipstick Wars Slam 2020 winner for Chicago recently performed for Windy City Live for Infant Loss Awareness Month and debuted her poetry video "Mary" chronicling her own experience of losing her child, David Kwynton. Kwyn is the author of two books, "and she wrote" and "and she Will", that you can find on kwynology.com
Luis "Logan Lu" Tubens – Luis "Logan Lu" Tubens was born in Chicago's West Town neighborhood and raised in Logan Square. In 2017, he was the Artists in Residence at Oak Park Public Library. He has performed poetry across the United States, including with the GUILD COMPLEX, Tia Chucha Press, and the National Museum of Mexican Art. He has toured Mexico City in 2016 and 2018 at the acclaimed "Show Socrates MX" (2016) and the National Book Fair of Leon GTO (2018). He featured in Puerto Rico at "Poets Passage" and "Gathering of Cities" at Libros AC (2019). Tubens also held workshops for the residents of the Cook County Juvenile Temporary Detention Center and students in the Chicago Public Schools. He is the author of Stone Eagle (2017) published by Bobbin Lace Press, Chicago.
Lonnie Smith – Lonnie Smith was born in Danville, Illinois, and has been incarcerated at Stateville Correctional Center for thirty years. Smith, a a social justice reformer, describes poetry an art that "…embodies the soul of the individual and is a voice for the oppressed. Poets shape social movements."
Ayinde Cartman – Born and raised in Chicago, Illinois, Ayinde Cartman is a masterful spoken word artist West African percussionist. Having graduated from Morehouse in 2011 with a Bachelor's degree in Psychology, Cartman is focused and committed to providing Black men and youth with the necessary language, resources, and outreach to develop them and cultivate the best they have to offer to themselves, and their worlds. He currently works as a school counselor for the Becoming A Man Program facilitating discussion groups for middle school students.