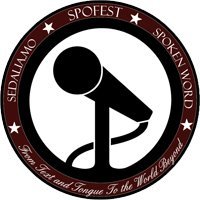 SpoFest Open Mic Poetry and Prose
Saturday, October 3, 2020 at 7 PM EDT – 9 PM EDT
https://www.facebook.com/SpoFest/live/
Poets, writers and authors promoting and sharing their original works
Watch and listen to John Dorsey, and first-time readers to SpoFest Jason Ryberg, Victor Clevenger and Damian Rucci. Includes Q and A with the writers. Plus special announcement regarding our October 17th event!
Enter our e-mail drawing to win an autographed copy of the book by these four readers entitled The Ghosts of Our Words Will Be Heroes in Hell.
SpoFest.Drawing@gmail.com
Include your first and last name. Your email will only be used for this drawing.
One lucky winner will be drawn at the end of this event!!
SPREAD THE SPOKEN WORD!
Support these writers by sharing this event on your timeline. They thank you!
SpoFest – spoken word festival
From Text and Tongue To The World Beyond