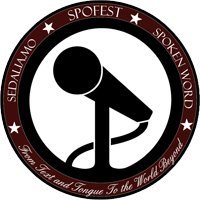 SpoFest Open Mic Poetry and Prose
Tuesday, January 5, 2021 at 8 PM EST – 10 PM EST
Price: Free · Duration: 2 hr
Public

 

Anyone on or off Facebook
Poets, writers and authors promoting and sharing their original work
Watch our four featured readers: Jonie McIntire, Michael Wells, Carmel Morse and Jacob Billingsley. Includes Q and A with the writers. Joining us will be special co-host Author & Poet Ronda Del Boccio.
Facebook live stream begins around 6:45 PM CST.
Enter our email drawing: SpoFest.Drawing@gmail.com, to win an autographed copy of "When Assassins and Allies Conspire: Visionary Tales" by Ronda Del Boccio.
Click here for author bio, reviews, photos and more.
https://smile.amazon.com/…/ref=cm_sw_r_cp_apa_fabc…
Include your first and last name. U.S. and Canada residences only. Your email will only be used for this drawing.
One lucky winner will be drawn at the end of this event!
SPREAD THE SPOKEN WORD!
Support these writers by sharing this event on your timeline. They thank you!
SpoFest – spoken word festival
From Text and Tongue To The World Beyond!