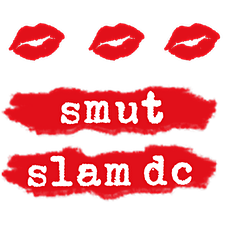 Smut Slam DC: Queer Pride for Black Lives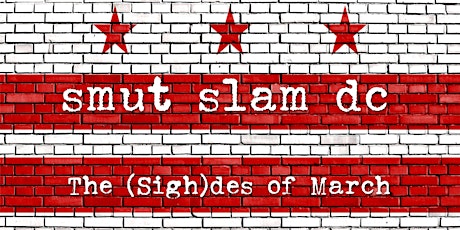 Thu, June 18, 2020
8:00 PM – 10:00 PM EDT
Celebrate Queer Pride with a sizzling hot first-person, real-life open mic that's all about sex. With prizes for best storytelling!
About this Event
**This show will have ASL interpretation**
Update as of June 4th, 2020: Smut Slam DC is 100% in support of the protests that have sprung up around the murder of George Floyd at the hands of the police, in support of #BlackLivesMatter, and in support of racial justice for our Black siblings. Following in the footsteps of other Pride celebrations this month that have chosen to center #BLM, this month's show will be dedicated to the queer community's solidarity with our Black communities. Our Black friends are invited to attend the show free of charge, and I as the producer will donate my entire portion of ticket sales (after paying my licensing fee and show staff) to Black Lives Matter and possibly one or two other Black-led organizations that need funds at that time. There is no Pride without people of color and there is no celebration if we aren't using it to dismantle oppression.
Say it loud and say it proud– queer sex is beautiful! The whole city's partying for Pride in June, so come tell us how you got your rainbow high. We've always got a big queer presence, but tonight let's come together to celebrate our magic and joy with stories representing the spectrum of our sex lives.
Who says social distancing can't be sexy? Smut Slam DC may be cancelled in-person for June, but the hosts of Smut Slam International have rallied to create a totally-online format until we can all have live events again. Once again, Smut Slam DC is proud to partner with Woodhull Sexual Freedom Summit online to join forces in celebrating sexual rights, freedom, and justice! Follow their programming or join in the conversation with #SFS20.
(Not familiar with Smut Slam? It's a storytelling open mic where audience members sign up for 5-minute slots to tell their best real-life, first-person, consensual sex stories. It's queer-friendly, kink-friendly, lifestyle-friendly, body-positive, sex-positive, and wildly fun. No costumes, no notes, no gimmicks, just straight-up raw truth!)
This month, our theme is "Queer Pride". Every year, we take this month to join in the Capital Pride celebration and center our queer audience, because telling our stories and making our voices heard makes a difference. All are welcome, queer and ally alike, but this month we give preference to our sizable queer fan base for storytelling. Join us and let's get fabulous together! BIPOC queer folks are especially invited to share your stories and get celebrated.
Join me, Smut Slam DC producer and femme-cee Diva Darling, for an evening of deliciously smutty stories told by YOU. We'll also, as always, have the Fuckbucket where audience members can write in their anonymous sexy questions and confessions. Want to play? Submit a NEW question or confession in the virtual Fuckbucket and I'll be reading them aloud and answering your burning sex questions. Once again, I'll be joined by a panel of local celebrity judges (TBA) who want to taste the rainbow.
All the usual rules for participation apply– just because we're online, doesn't mean we're not creating safe and inclusive space! I won't be reading any Fuckbucket entries that are racist, ageist, body-shaming, homophobic, transphobic, kink-shaming, non-consensual, or that in any other way violate the Rules of the Road. Storytellers must also follow the house rules, and our live chat will be moderated to ensure no one violates safe space or abuses their chat privileges.
To check out the show, all you need is an internet connection. If you want to tell a story, you'll need a working mic on your device (and a camera, if you want to be on camera.) When you register, you'll get the Z00m link via email prior to the show. The room will be open starting at 7:45 PM EST to hang out, submit your Fuckbuckets, chat with everyone, and get your bearings. We will NOT be recording this event (to protect storytellers' privacy), and the room is limited to 100 spots, so if we get too crowded, extra folks will be put into a waiting room until someone else leaves.
This show is on a pay-what-you-can basis, with a suggested donation of $10. PWYC includes paying nothing, in order to keep the show accessible to all while so many of us are facing hardship, so I've opened up a limited number of free seats. If you can afford a little something, it's greatly appreciated. Producing live shows is part of my living, and I'm losing income from more than one source during this shutdown. I'm also splitting the revenue with my ASL interpreters and show staff, so your contribution helps keep a few people employed who need work at this time. You can donate here on Eventbrite, or directly to @SmutSlamDC (Diva Darling) on Venmo or diva@dc.smutslam.com on Paypal.
Never been to Smut Slam, or live too far away to get to one? This is your perfect chance to find out what we're all about! Smut Slam DC is the first franchise of Smut Slam International, created by artist and educator Cameryn Moore. Smut Slams are live storytelling open mics that are all about sex. Get the full story and follow Smut Slam International on Facebook for other virtual Slams around the world.
Have a Frequent Filth card? Post a pic of it in the comments of the video, and if you bring it to the next live Smut Slam, WE WILL COUNT THE ONLINE SLAM toward your next free ticket!
Smut Slam DC is generously sponsored by Lotus Blooms, Austin Travis, Uberlube, and Glyde Condoms. The Fuckbucket is sponsored around the world by Njoy Toys. Heartfelt thanks as always to our sponsors for helping make our shows amazing!