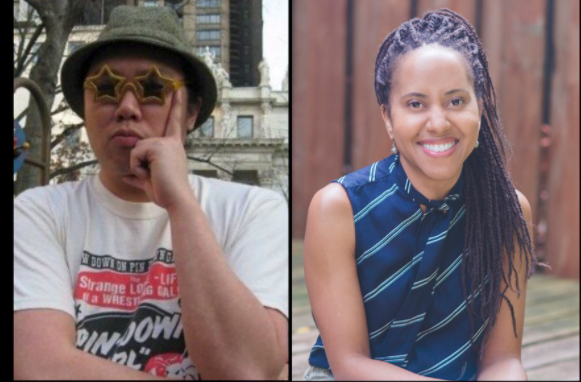 Shab-e She'r (Poetry Night) LXXXIV
TUESDAY, FEBRUARY 22, 2022 AT 7 PM – 10 PM
Shab-e She'r (Poetry Night) LXXXIV
Toronto's most diverse & brave poetry reading + open mic series
Featured poets: Leslie Roach & Sam Cheuk
Host: Bänoo Zan
Time: Tuesday, February 22, 2022
Place: Online (Zoom) Registration is required via Eventbrite
Open Mic Sign-up: 6:45 EST
Show 7-10 PM EST
Admission: $5-10
Registration Link: https://www.eventbrite.ca/…/shab-e-sher-poetry-night…
Leslie Roach is a Montreal-born poet, writer and lawyer. She is currently based in Ottawa, where she works for the Supreme Court of Canada. She previously worked for the United Nations, and has lived in Italy, Mali, Tanzania, Kenya and Senegal.
Finish this Sentence, her debut collection of poetry, is about healing from the effects of racism, finding one's voice and power, and claiming one's human right to be happy. She has been featured on major media platforms, including CBC and CBC Books, and has partnered with national brands like DeSerres.
She is an advocate for finding one's power through practicing mindfulness
Website: leslieroach.ca
Twitter: @LeslieARoach
Instagram: @LeslieARoach
Facebook: Leslie Roach | Facebook
Sam Cheuk is a Hong Kong-born Canadian author of Love Figures, Deus et Machina, and Postscripts from a City Burning. He is currently working on Marginalia, which examines the function, execution, and generative potential behind censorship. Cheuk lives in Vancouver.