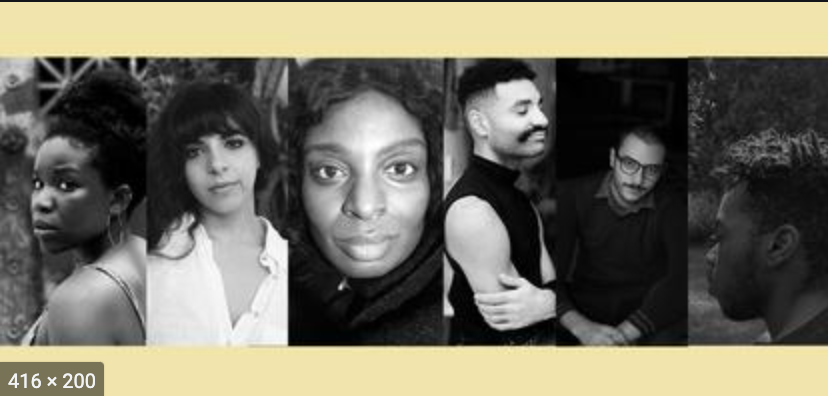 Radical Poetry Reading with Kyle Carrero Lopez
Date and time
Wed, June 16, 2021
1:00 PM – 2:30 PM EDT
The 41st Radical Poetry Reading featuring Jessica Abughattas, Anaïs Duplan, Omotara James, I.S. Jones, and Fargo Nissim Tbakhi.
About this event
Kyle Carrero Lopez curates the 41st Radical Poetry Reading featuring Jessica Abughattas, Anaïs Duplan, Omotara James, I.S. Jones, and Fargo Nissim Tbakhi.
Find out more on our website.
Kyle Carrero Lopez is the author of the upcoming chapbook MUSCLE MEMORY (winner of the 2020 [PANK] Books Contest), Kyle Carrero Lopez was born to Cuban parents in northern New Jersey. He co-founded LEGACY, a Brooklyn-based production collective by and for Black queer artists. Kyle's recent poems are published in TriQuarterly, The Atlantic, Poetry, The Nation, and elsewhere.
Jessica Abughattas is a Palestinian American poet and the author of the debut poetry collection Strip, winner the 2020 Etel Adnan Poetry Prize selected by Fady Joudah and Hayan Charara. A Kundiman fellow, Abughattas' poems have appeared in The Rumpus, The Adroit Journal, Tupelo Quarterly, Lit Hub, Waxwing, BOAAT, and other places. She lives in Los Angeles.
Anaïs Duplan is a trans* poet, curator, artist, and the author of a book of essays Blackspace: On the Poetics of an Afrofuture (Black Ocean, 2020), a full-length poetry collection, Take This Stallion (Brooklyn Arts Press, 2016), and a chapbook, Mount Carmel and the Blood of Parnassus (Monster House Press, 2017). His video works have been exhibited by Flux Factory, Daata Editions, the 13th Baltic Triennial in Lithuania, Mathew Gallery, NeueHouse, the Paseo Project, and will be exhibited at the Institute of Contemporary Art in L.A in 2021. As an independent curator, he has facilitated curatorial projects in Chicago, Boston, Santa Fe, and Reykjavík. He was a 2017–2019 joint Public Programs fellow at the Museum of Modern Art and the Studio Museum in Harlem. In 2016, he founded the Center for Afrofuturist Studies, an artist residency program for artists of color, based at Iowa City's artist-run organization Public Space One. He works as Program Manager at Recess.
Omotara James is the author of the poetry collection, Song of My Softening, forthcoming from Alice James Books, April 2022. She has been awarded fellowships from the New York Foundation of the Arts, Lambda Literary and the Cave Canem Foundation. A recipient of the 92Y/Discovery Poetry Prize, James is a visual artist and teacher of poetry in New York City. She believes that radical thought without radical action is dead.
I.S. Jones is a queer American Nigerian poet and music journalist. She is a Graduate Fellow with The Watering Hole and holds fellowships from Callaloo, BOAAT Writer's Retreat, and Brooklyn Poets. I.S. hosts a month-long workshop every April called The Singing Bullet. She is an editor at 20.35 Africa: An Anthology of Contemporary Poetry. Her works have appeared or are forthcoming in Guernica, Washington Square Review, Hayden's Ferry Review, Hobart Pulp, The Rumpus, The Offing, Shade Literary Arts, and elsewhere. Her chapbook Spells Of My Name is forthcoming with Newfound in 2021.
Fargo Nissim Tbakhi is a queer Palestinian-American performance artist whose writing can be found in Strange Horizons, Apex Magazine, The Shallow Ends, Mizna, Peach Mag, and elsewhere. His performance work has been programmed at OUTsider Fest, INTER-SECTION Solo Fest, the National Queer Arts Festival, and has received support from the Arizona Commission on the Arts.
🎟 Tickets — Suggested Donation
We ask that if you have the means, please donate a small amount when attending this event. It'll help to pay our small staff, who are now working (remotely) to connect artists, writers, critics, filmmakers, and poets in this difficult time.
How does it work?
⚡Our events are held over ZOOM.
💻Download and install ZOOM for desktop or mobile devices https://zoom.us/download
🕰Please arrive 5-10mins in advance to ensure you're connected and ready to go.
🎧We recommend viewing with headphones. It is easier to hear people and will be easier for you to ask a question, should you decide.
🗝Accessibility: Closed-captioning in English will be available during the event. Our Q&A will be conducted using Zoom's chat function, with the option to voice your question or have our staff read it. Past events can be viewed on our Youtube Channel, where auto-translation of captions into many languages is available: https://youtube.com/thebrooklynrail. If you have questions about access or requests, email hq@brooklynrail.org.
👾Technical difficulties
We work hard to make sure this is easy and enjoyable for everyone, but technology is not always kind. If you are not happy with the experience, we'll happily refund any donation you made. We just ask that you let us know how we could have made the experience better for you.
💌Questions/feedback? Let us know how we make this experience better — hq@brooklynrail.org
—————
See all upcoming New Social Environment conversations, daily at 1pm: https://brooklynrail.org/events
Subscribe to the Brooklyn Rail newsletter to get updates on upcoming events https://brooklynrail.org/newsletter
❤️Much love from the Brooklyn Rail https://brooklynrail.org/