Poetry Salon – Ladies That Rhyme Together Chime Togethe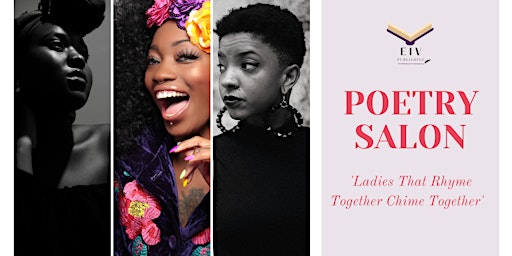 Date and time
Fri, 11 June 2021
15:00 – 17:00 EDT
Join international poets and spoken word artists for this FREE event.
About this event
"We are each other's harvest; we are each other's business; we are each other's magnitude and bond."
― Gwendolyn Brooks
With past guests and participants joining us from several states in the USA, India, Hungry and the UK, this promises to be another fabulous event and couldn't speak more to our united platform.
Our 4th event celebrates togetherness. We, as women, usually make coming together easy, but sometimes we try to take on the world on our own. So, we continue to celebrate women in the arts who use this creative outlet as another form of expression in poetry and spoken word to cheer each other on.
Past attendees said:
 'I loved your poetry event, thanks for hosting!' – (S.H)
'OMG! That was wicked!' – (A.B)
An amazing evening. Thank you!. 👌🏾❤️👏🏾👏🏾👏🏾👏🏾👏🏾 – (C.G)
"Fabulous evening. Thanks, I really enjoyed it……..some very talented people!" – (I.C)
'It was a fantastic event last night, very talented people. One of the best evenings I have had in a long time.' – (J.J)
(See highlights from a previous event here: https://youtu.be/J7Nra1VD6Po)
Invited artists bring their unique take on current events and other issues that have touched their hearts and drawn them to write. We'll also be sharing and remembering some of our favourite work from other black poets and wordsmiths and every event includes an open mic session where we discover new talent.
The event is working in conjunction with the international book project 'Letters To My Younger Self.' This project is working with women's groups and individuals around the world to collect themed letters filled with advice and love to their younger self.
For more information on the project visit: https://www.eivpublishing.com/collaborations.