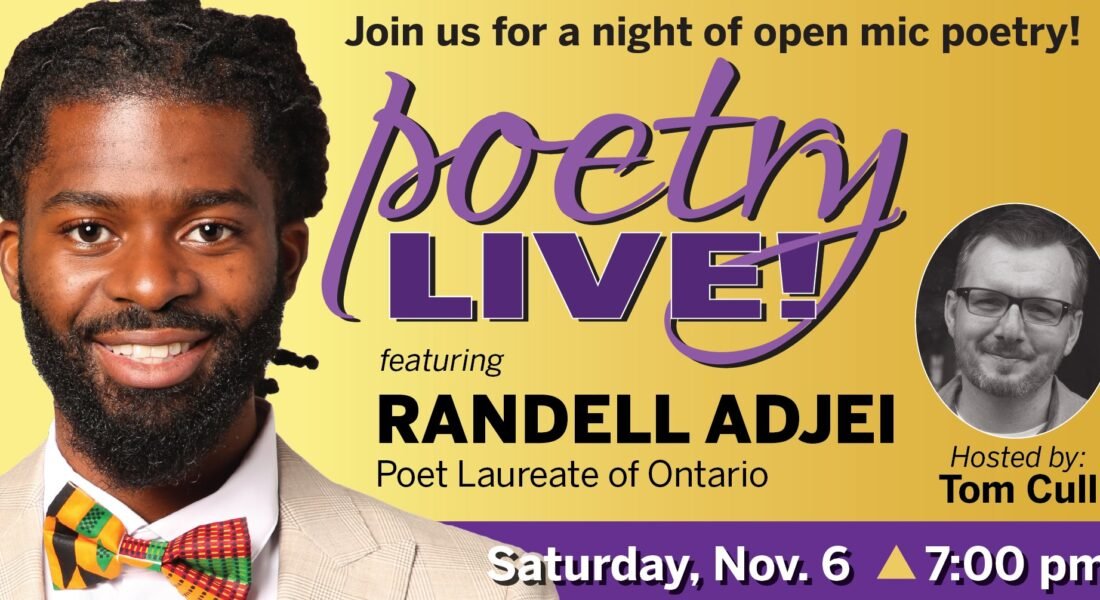 Poetry Live! An Evening of Open Mic Poetry at Words with Randell Adjei
SATURDAY, NOVEMBER 6, 2021 AT 7 PM – 9 PM
Poetry Live: An Evening of Open Mic Poetry with Feature Artist Randell Adjei
Are you a poetry aficionado? Would you like to read your own poetry at London's Words Festival, while listening to others in a community atmosphere?
Join us for Poetry Live, an evening of open mic poetry at Words Fest, hosted by former Poet Laureate of London Tom Cull and featuring a special performance by inaugural Poet Laureate of Ontario Randell Adjei.
How to sign-up: we will send instructions for sign-up when we get closer to the date. When you register on Zoom, we'll receive your email address as part of the registration. One week from the event, we'll send you a message indicating how you can put your name forward to read.
Everyone is welcome to join us for a virtual evening of poetry as part of the Words Festival! Over the course of the evening, our host extraordinaire, Tom Cull, will open the floor to poets of all shapes, sizes, and varieties! We welcome poets who are not from London as well. And you are most welcome to come and just listen as an audience member.
Out of an abundance of caution regarding the spread of the Delta variant of COVID-19, this year's Poetry Live will take place on Zoom.
Biography:
Randell Adjei is an Author, Inspirational Speaker, Arts Educator and Community Leader who uses the spoken word to empower and transform through Edutainment. He is the founder of one of Toronto's largest and longest running youth led initiatives; Reaching Intelligent Souls Everywhere (R.I.S.E Edutainment). The beat of his art was found after years of being lost. He found himself by turning his struggles around to inspire others. His story is one of an Alchemist who truly transformed his life from rock to gold inspiring everyone he comes into contact to strive to unearth the pure potential within them. Randell shares these messages on various stages as an emcee/host, performer and arts practitioner. Randell is also a MaRS DD – Studio Y Cohort 2 Fellow, 1 of 5 coaches involved in the Toronto Public Library's (Poetry Saved Our Lives) project and a regularly sought after speaker and presenter with the Toronto District School Board and Toronto Catholic School Board.