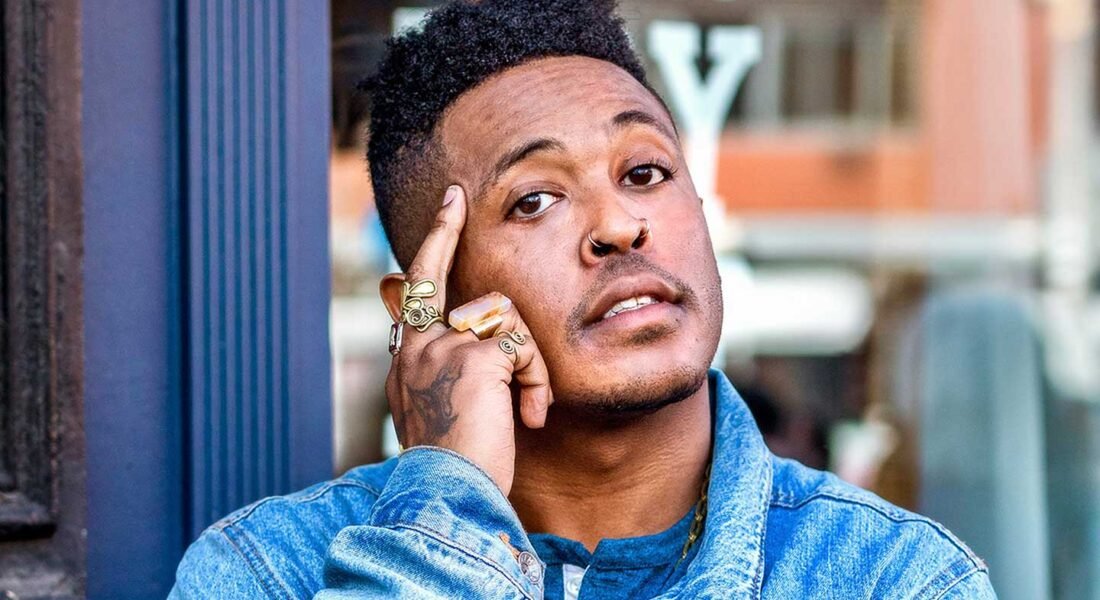 Making the World More Bearable: Reading & Conversation w/ Poet Danez Smith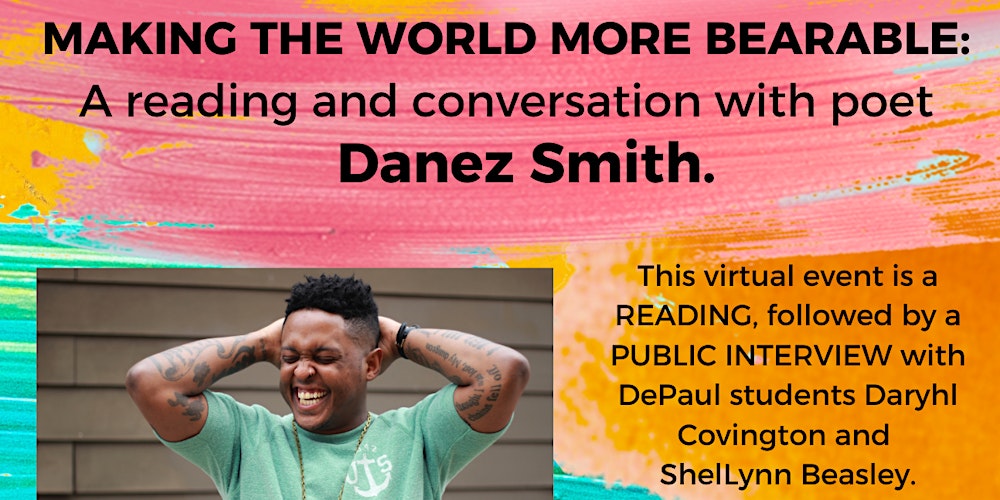 Date and time
Wed, May 19, 2021
4:00 PM – 5:00 PM EDT
MAKING THE WORLD MORE BEARABLE: A reading and conversation with poet DANEZ SMITH.
About this event
The DePaul University LGBTQ Studies Program and the Department of English present—MAKING THE WORLD MORE BEARABLE: A reading and conversation with poet Danez Smith. This virtual event is a READING, followed by a PUBLIC INTERVIEW with DePaul students Darhyl Convington and ShelLynn Beasely.
On Zoom, Wednesday, May 19th at 3PM-4PM.
QUESTIONS: lgbtqstudies@depaul.edu
~
Danez Smith is a Black, Queer, Poz writer & performer from St. Paul, MN.
In 2017, Graywolf Press published Danez Smith's brilliant and powerful Don't Call Us Dead, which was a finalist for the National Book Award for Poetry, winner of the UK's Forward Prize for Best Collection, and winner of the Poetry Society of America's Four Quartets Prize. Published to widespread acclaim, including three starred pre-publication reviews, the book is a searing exploration of racism, police brutality, desire, and mortality. The Washington Post called it a "stunning collection" and the New Yorker wrote, "These poems can't make history vanish, but they can contend against it with the force of a restorative imagination. Smith's work is about that imagination—its role in repairing and sustaining communities, and in making the world more bearable."
Now, Smith is back with their highly anticipated third collection, Homie. A magnificent anthem about the saving grace of friendship, Homie is rooted in their search for joy and intimacy in a time where both are scarce. In poems of rare power and generosity, Smith acknowledges that in a country overrun by violence, xenophobia, and disparity, and in a body defined by race, queerness, and diagnosis, it can be hard to survive, even harder to remember reasons for living. But then the phone lights up, or a shout comes up to the window, and family—blood and chosen—arrives with just the right food and some redemption. Part friendship diary, part bright elegy, part war cry, Homie is written for friends: for Danez's, for yours.
Thank you to our co-sponsors: African and Black Diaspora Studies, The Women's Center, Critical Ethnic Studies, American Studies, The Center for Black Diaspora, MFA/MA in Creative Writing and Publishing, LGBTQIA+ Resource Center, Women and Gender Studies, LGBTQ Faculty and Staff Network, and The Center for Latino Research.
Danez Smith is the author of Homie, Don't Call Us Dead, winner of the Forward Prize for Best Collection and a finalist for the National Book Award, and [insert boy], winner of the Kate Tufts Discovery Award. They live in Minneapolis. www.danezsmithpoet.com