HUSH NO MORE Spoken Word & Open Mic-Virtual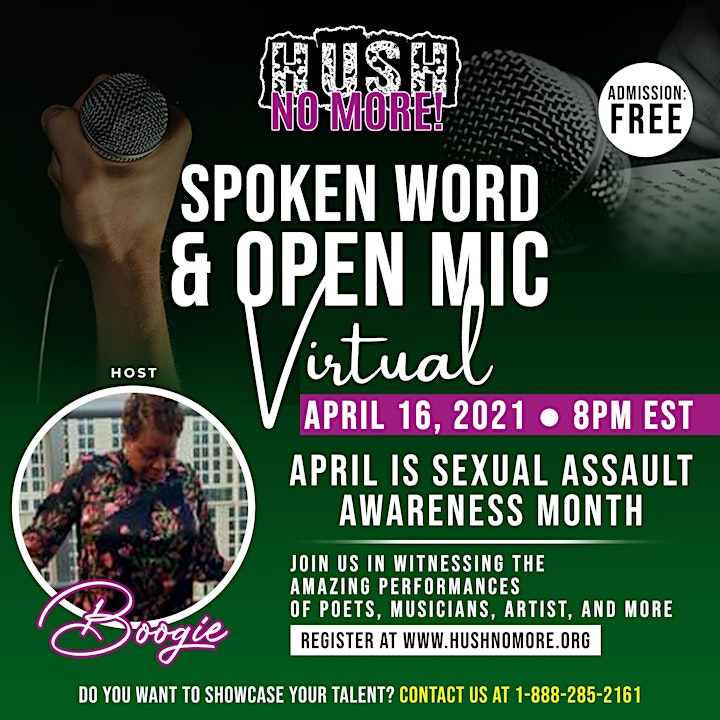 Fri, April 16, 2021
8:00 PM – 11:00 PM EDT
Join us as we celebrate Sexual Assault Awareness Month by witnessing some amazing talent! Due to Social Distancing this event is online!
About this Event
We are hosting a major event to bring awareness during Sexual Assault Awareness Month! The HUSH No More Spoken Word & Open Mic will have a variety of extremely talented poets, artists and musicians performing their own original work to express their feelings about trauma or any significant event in their life. Due to Social Distancing, this event will be online.
Boogie will host this event and share her talents with us.
If you would like to showcase your talent call 1-888-285-2161. Open Mic will be available after all registered guests have shared their art.
Studies show that every 98 seconds someone is sexually assaulted.
HUSH No More is a 501(c)3 non-profit organization founded in 2019 to provide a platform for Survivors to share their experience with the "HUSH Topics" and to receive support from other Survivors and Victim Advocates. As well as provide training that will lead to awareness and prevention in our community. HUSH Topics are those topics that individuals, families, and organizations have a hard time discussing, such as sexual assault, domestic violence, child sexual abuse, sex trafficking, sexual harassment, etc. Statistics show that these topics happen in 1 out of 6 households and the numbers are growing. Our vision is to create a world where Survivors feel empowered to HUSH No More, and share their stories with others to create knowledge that leads to safer communities.