COMMONground: A Collaboration with Poetry Ireland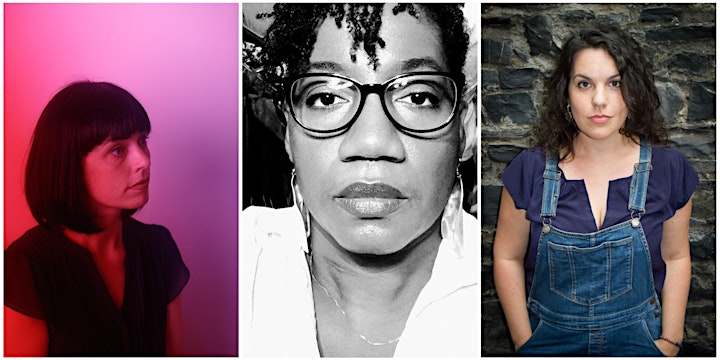 Sat, February 5, 2022
2:00 PM – 3:00 PM EST
Poetry Foundation and Poetry Ireland present Doireann Ní Ghríofa and Teri Ellen Cross Davis in conversation.
About this event
Poetry Foundation and Poetry Ireland present the first in a series of transatlantic events, a reading and conversation with acclaimed Irish poet Doireann Ní Ghríofa and award-winning American poet Teri Ellen Cross Davis, moderated by Erin Fornoff.
This inaugural online event will probe topics of struggle, motherhood, and the complexities of honouring the past while raising the future. Teri and Doireann will discuss the impact these themes have had on their recent work, and with readings from their highly praised collections, will illuminate those places where their approaches and experiences converge and diverge.
+
Doireann Ní Ghríofa is a poet and essayist. Her prose debut A Ghost in the Throat was awarded the James Tait Back Prize for Biography 2021 and described as "powerful" (The New York Times), and "captivatingly original" (The Guardian). She is also author of six critically-acclaimed books of poetry, each a deepening exploration of birth, death, desire, and domesticity. Awards for her writing include a Lannan Literary Fellowship, the Ostana Prize, a Seamus Heaney Fellowship from Queen's University, and the Rooney Prize for Irish Literature.
Teri Ellen Cross Davis is a poet and the author of A More Perfect Union, the 2019 winner of TheJournal/Charles B. Wheeler Poetry Prize (Mad Creek Books, 2021). Her debut collection Haint (Gival Press, 2016) won the 2017 Ohioana Book Award for Poetry. She is the 2020 winner of the Poetry Society of America's (PSA) Robert H. Winner Memorial Award and a finalist for the PSA's George Bogin Memorial Award. She is the recipient of a 2019 Sustainable Arts grant and a Meret grant from the Freya Project.
A Cave Canem fellow, she has been awarded scholarships, residencies and fellowships to attend the Community of Writers Workshop, Hedgebrook, the Soul Mountain Writer's Retreat, the Virginia Center for Creative Arts, The Sewanee Writers' Conference, the Hermitage Artist Retreat, and the Fine Arts Work Center in Provincetown. She is on the Advisory Council of Split This Rock and a member of the Black Ladies Brunch Collective. She has been a semi-finalist and finalist judge for the National Endowment for the Arts Poetry Out Loud. Her work has been published in many anthologies and journals.
She is the Poetry Coordinator for the Folger Shakespeare Library in Washington D.C. She lives in Maryland with her husband, poet Hayes Davis and their two children.
An American in Ireland, Erin Fornoff has published a poetry collection Hymn to the Reckless (Dedalus Press) shortlisted for the Shine/Strong Award, and a chapbook Folk Heroes (Stewed Rhubarb Press). An experienced performer, she has featured at events globally including three times at Glastonbury Festival. She has received Literature bursaries for her novel and play from the Arts Council of Ireland.
+
Poetry Foundation's events are completely free of charge and open to the public. This reading will include live captioning and ASL interpretation. If you require any other accessibility measures, please contact us by emailing events@poetryfoundation.org. Please add this to the end of the accessibility paragraph: To find out more about Zoom's own built-in accessibility features, please visit https://zoom.us/accessibility.