Beatfreeks – Poetry Jam Live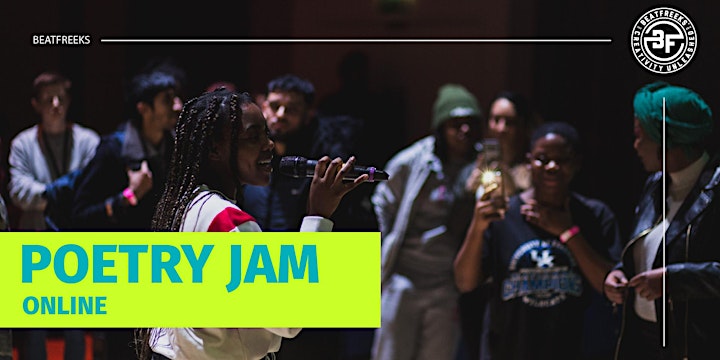 Beatfreeks presents Poetry Jam, our monthly open mic night – streaming live on YouTube.
About this event
Poetry Jam
A Monthly Open Mic Platform
Established in 2013
Live on YouTube on the first Thursday of every month
What is Poetry Jam?
Poetry Jam is a movement
Poetry Jam is a community
Poetry Jam is a chance to speak up
Poetry Jam is innovation
Poetry Jam is individuality
Poetry Jam is unapologetic
Poetry Jam is love
Poetry Jam is comedy
Poetry Jam is raw
Poetry Jam is real
Poetry Jam is the first Thursday of every month
Poetry Jam is an open mic night for your first poem or your fifty-first.
It's a place where the topic can go from love, to comedy, to grief in a heartbeat.
It's a place for free verse, for slam, for sonnets and for lyrics.
It's raw, uncensored and sometimes explicit.
Everyone is welcome, whether you're just here to drink in the culture, or you want to speak up and be heard.
Let us know you'll be there and grab your free ticket.
PERFORMERS, POETS, SPOKEN WORD ARTISTS!!
We ask poets to send us prerecorded videos of their performance to us for a chance to feature in the showcase, with our young hosts reacting to the performances.
WHERE TO WATCH?
Join us on YouTube, at 7pm on the first Thursday of every month, to watch the event live. Follow and subscribe for more content at @beatfreeks across our social media platforms. Don't worry, once you've registered here, we'll send out a link when we are ready to go live, so no need to worry.
HOW TO GET FEATURED
Even though we have moved online, we're keeping an open mic approach: it's a first come first serve basis. Send your video submission to tom@beatfreeks.com via WeTransfer or WhatsApp to 07521632819. If you don't make it on a given month, resubmit! There's always another Poetry Jam coming.